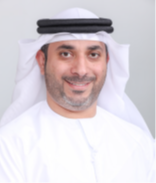 Abdelrahman Al Hosani
Director
,
Exporters Services Dept
Abdelrahman is an excellent communicator with strong interpersonal, problem solving and negotiation skills, developing, maintaining relationship with clients, Managing major initiatives in retail distribution and channel management, ensuring business development conceptualizing & implementing innovative strategies and enhancing organizational objectives, directing cross-functional teams using motivational leadership to ensure operational excellence.
Director Exporter Services at Dubai Exports
September 2015 - Present
-Based on research, strategy obtained from the Export market Development Division; manage a comprehensive database of processes, systems, and procedures as to how to export product & services from Dubai.
-Facilitate strategic level dialogue between government and the private sector to identify needs and export constraints faced by SMEs.
-Ensure conduction of annual customer satisfaction surveys.
-Cooperation with the Governance & Quality, Strategic Communication and Export Market Development Division by using communication tools such as a dynamic website, e-newsletters, and educational seminars etc.
-Ensure development and success of the Export Assistance program with High level communications.
Liaise with Customs Department and other relevant UAE government departments to facilitate shipment from Dubai Ports (product certifications or removal of barriers).
-Contribute to strategic planning and development of the DEDC as a member of the Executive team.
-Ensure that all work accomplishment at high quality, provide guidance and motivation to the staff to carry out their roles and responsibilities, delegate and monitor their activities.
Senior Manager Sales & Head of Account Management at EDCH - Etisalat
November 2010 - September 2015 (4 years 11 months)
Hold the following positions for more than a decade and a half in Etisalat, started as: a Database Administrator at EDCH – Etisalat, Target & Incentive Specialist at Etisalat, Manager Distribution at Etisalat. Then, Senior Manager Sales & Head of Account Management at EDCH – Etisalat
Abdelrahman has been graduated from Al Ghurair University with a Bachelor degree in Business Administration - Marketing, 2007 – 2009, higher colleges of Technology & he has a Higher Diploma in Business Information Technology, 1996 - 2000