Viet Nam may become a food innovation hub of Asia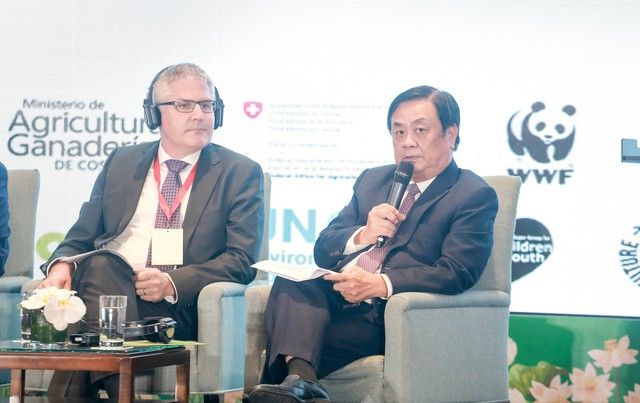 A "responsible, transparent, and sustainable" food provider …
Viet Nam hosts the 4th Global Conference of the One Planet Network's Sustainable Food System Programme (SFS Programme) from April 24 to 27. The conference is expected to review challenges in the transformation of food systems.
The event will enable diverse stakeholders to showcase early signs of success in implementing the United Nations Food Systems Summit (UNFSS) results, including by presenting tools and techniques that deal with interdependencies and trade-offs of the food systems challenges, allowing the sharing of lessons and experiences, with the goal of strengthening alliances and impactful initiatives that can deliver concrete actions in support of National Pathways.
This global event will also discuss food system challenges and peer-to-peer learning and sharing of experiences from across the globe, emphasizing Asian region country participation.
The host of such an important conference comes as Viet Nam's agriculture sector is carrying out a strategy on sustainable agricultural and rural development in the 2021-2030 period, with a vision to 2050. The Strategy is an important policy document for Viet Nam's sustainable agriculture and rural development sectors and was approved by the Prime Minister by Decision 150/QD-TTg dated January 28, 2022. The main objectives of the Strategy include building a commodity-producing agricultural sector while developing specific agriculture plans based on local advantages, with high productivity, quality, efficiency, sustainability; increasing competitiveness to make Viet Nam a leading country in the region and in the world; firmly ensuring national food security; making an important contribution to socio-economic stability; preventing and controlling natural disasters and epidemics; protecting the environment; and responding to climate change, by efficiently implementing international commitments on reducing greenhouse gas emissions.
Viet Nam also looks forward to contributing to the construction of the global food safety system as a nation and as a "responsible, transparent, and sustainable" food provider. The country has offered initiatives such as: (i) linking between domestic and cross-border innovation networks to serve for the goal of becoming a Food Innovation Hub of Asia, (ii) advancing the use of digital technology and tap the achievements of the 4th Industrial Revolution in order to develop smart agriculture value chains and (iii) transforming the food systems into "green", sustainable and low-emission models to help attaining SDGs (The Government of Viet Nam affirms its participation in the programme "100 million farmers: transition to a net-zero and environmentally friendly food system", a multistakeholder platform catalyzing action to transition to net-zero, nature-positive food systems by 2030).