09 Nov 2022
Why Kenya is turning to genetically modified crops to help with drought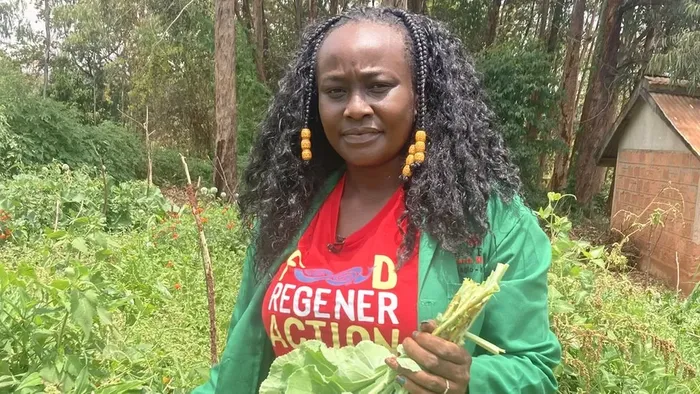 "You are making what we eat worse than it is," accuses farmer Eva Wanjiru.
She is concerned by the fact many Kenyan farmers will begin using genetically modified (GM) maize seeds early next year, after the government recently reversed a 10-year ban on the crops.
The seeds will be planted on half-a-million acres and will be drought resistant, the country's agricultural authority says, thus helping curb shortages caused by the lack of rain.
However there is nothing to fear when it comes to eating genetically modified organisms (GMOs) on the human body, says Richard Oduor, a professor of biotechnology at Kenyatta University.
"There is no science-based evidence linking biotech to cancer. I find it to be a convenient debate because why are we comfortable taking genetically modified insulin but can't take GM foods because of imaginary effects? The claims are baseless," he told the BBC.
In any case, he says, GMOs are closely monitored after their release.
Kenya is currently facing a severe water shortage caused by four failed consecutive rainy seasons, amid one of the harshest droughts the East African region has seen in four decades. This means crops are not able to grow, prompting warnings of potential famine.
GM seeds are those which have been genetically altered to produce what are seen as desirable qualities such as drought and pest resistance - and it is due to this resilience that some have a more positive view than Ms Wanjiru.
They say the lifting of the GMO ban was prompted by the real need to ensure food security and to safeguard the environment.
"Climate change, the severity of drought and the emergence of new pests such as fall armyworms and maize stalk borer, and diseases such as maize lethal necrosis pose a real threat to food, [cattle] feed and nutritional security," said Dr Eliud Kireger, director general of the Kenya Agricultural and Livestock Research Organization.
These diseases and pests destroy the maize crop. For example, fall armyworms eat through most of the vegetation as they make their way through crops.