30 Aug 2022
Indonesia's GREENS secures pre- seed funding led by East Ventures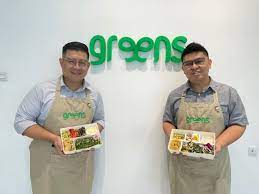 GREEN'S, an Indonesia-based integrated food technology startup, announced Tuesday that it has secured an undisclosed amount of pre-seed funding led by East Ventures, with participation from the other investors.
GREENS said in a statement that it will allocate the new funding to build the ecosystem for food decentralization in two phases.
Phase 1 will focus on enabling a hyperlocal food ecosystem by creating cloud networks of connected hyperlocal food outlets with the GREENS platform, while Phase 2 will focus on Meta Farming, which will enable everyone to grow food in the metaverse for self consumption and/or sale.
GREENS aims to bring food equity for all through meta farming.
'We are glad to receive the investment from East Ventures. We believe it will serve as a strong testament of GREENS' solution and mission. GREENS provides an integrated food technology to bring a new food ecosystem that will better improve the way people grow and get their food,
'Meal is the daily essential that everyone needs, and we are certain our solutions can improve and bring a better life through the closest needs of the society,' said Andi Sie, Chief Executive Officer of GREENS.
In the upcoming October 2022, GREENS is going to open its first hyperlocal outlet that will be located in Plaza Indonesia, Jakarta.
'The GREENS platform consists of a fully automated garden unit, named GREENS pod, that is modular, portable and plug-and-play. It is fully integrated for the production of high nutrient foods from seed to a complete salad meal and beyond, which can be accessed from wherever you are,' said Geraldi Tjoa, Co-Founder and Chief Product Officer of GREENS.
Currently, GREENS' solution has contributed to several numbers of Sustainable Development Goals (SDGs) by the United Nations; with several highlights including: Goal No 1 & 2 by supporting everyone to grow their own food through the platform, No 3 by providing essential micronutrients, No 6 by using 90 percent less water and no harmful chemical for farming, and etc.
'GREENS help cut food distribution inefficiencies by shortening the distance between where foods are planted and harvested, making it possible to grow your own food at your own place. We are happy to welcome GREENS as part of East Ventures' portfolios and fully support GREENS' mission to localize food production to enhance resilience and the sustainability of food systems in Indonesia,' said Melisa Irene, Partner at East Ventures.
GREENS is creating access to wellness for all people through food. Its mission is to stop food loss (due to complex supply chains, climate change, and deteriorating lands) and nourish people.
GREENS envisions hyperlocal gastronomy in every neighborhood ' bringing food equity for all by enabling ordinary people to grow and get super food like microGREENS (which contain up to 40 times more vitamin, mineral and antioxidant levels than the same quantity of regular vegetables) from anywhere through meta farming.
With meta farming, GREENS is democratizing hyperlocal food with web3 using an agricultural technology innovations in the form of a pod (GREENS pod) that utilizes indoor cultivation systems, blockchain, artificial intelligence (AI), and the internet of things (IoT) to create decentralized food sources.
GREENS' solution is a new, hyperlocal, food ecosystem where people can consume high nutrient meals that are grown and harvested onsite using 90 percent less water, 70 percent less land, and zero distance from farm to meal.