13 Apr 2023
Hawaiʻi's Mushroom Boom Is Here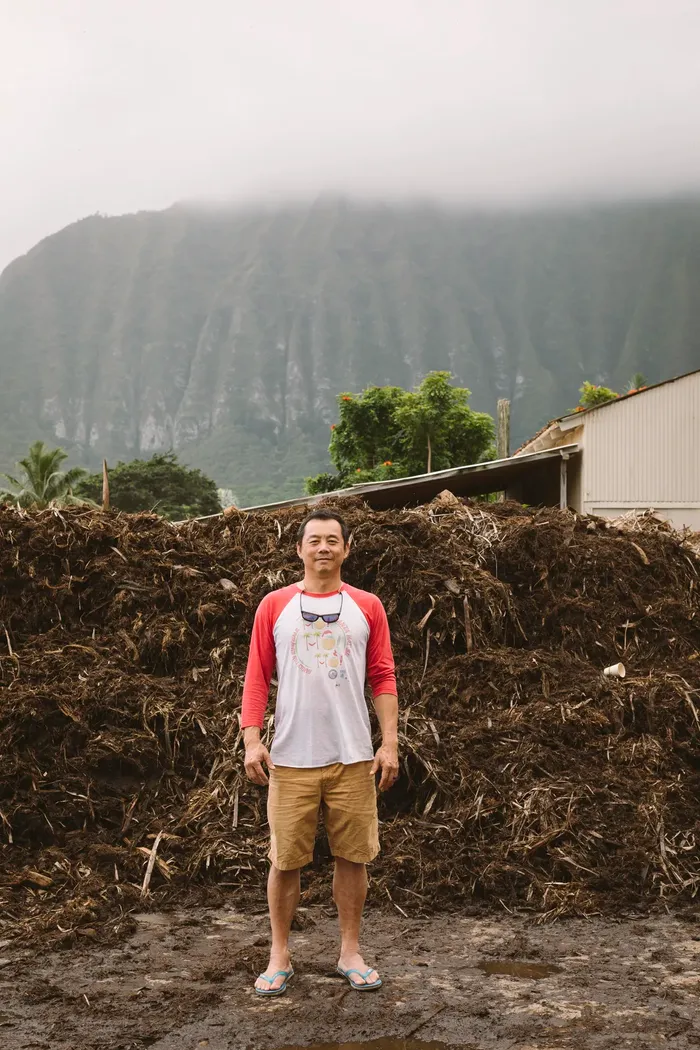 Down a muddy road in Waimanalo, half an hour from bustling Honolulu, Fung Yang cuts airy portobello mushrooms from miniature landscapes of white mycelium inside of a temperature-controlled shipping container. He plucks them from composted wood chips nestled in cardboard boxes, and carefully puts them in a clean new box. Emerging from the discarded container — one of five at Yang's Small Kine Farm, a no-frills plot abutting a succulent nursery and a range of salvage and waste reclamation businesses — he takes a big bite out of a larger portobello: quality control.
Yang smiles as he shows off his heaping compost pile: He says he reclaims three to five tons of organic green waste every few weeks to produce substrate, the woody equivalent of soil, for his mushrooms. It took Yang years to fine-tune turning local green waste into mushroom substrate. Other growers in the state rely on imported straw and prepackaged mixtures that basically rule out contamination. When Yang first started, he had to throw out entire crops when rogue mushrooms sprung up from his substrate. "I've learned a lot," he says.
Yang grows wide-brimmed "tūtū" (grandma) and their younger incarnation "keiki" (child) portobello mushrooms for around 30 chefs, specialty grocers, and CSA members. Every three months — the length of a full grow cycle — Small Kine Farm produces 1,200 to 1,600 pounds of portobello. Before he started selling them in 2012, local portobello were virtually nonexistent in Hawaiʻi. Now, Yang is part of a burgeoning group of farmers making it possible for chefs and home cooks in the islands to use an array of locally grown mushrooms, from trumpet to pearl oyster, shiitake to lion's mane. "I think nowadays people really want to buy local mushrooms — they are fresh, and they taste better than mainland mushrooms," he says. "I love eating them."
Hawaiʻi is the most geographically isolated population center in the world, and for decades, upwards of 85 percent of food has been imported. But mushrooms are now grown widely enough that anyone, from a Costco shopper to a fine dining-seeking tourist, is likely to come face-to-face with local funghi. Last time the state did an agricultural audit, the number of local farms producing mushrooms had tripled, from three in 2012 to nine in 2017, and funghi farmers say that number has continued to grow. In 2021, nearly 290,000 pounds of mushrooms were grown and sold in Hawaiʻi, routing $2.6 million to local farmers, rather than to megafarms on the U.S. mainland. And every ingredient that becomes locally available moves the needle towards self-sufficiency, lower environmental impact, and arguably higher-quality food.
Mushrooms made their commercial debut in Hawaiʻi in 2000, when retired helicopter pilot Bob Stanga filled an empty warehouse on the north coast of Hawaiʻi Island (the Big Island) with plastic bottles sprouting trumpet mushrooms — a Japanese technique that forgoes the thick single-use plastic bags common in mushroom cultivation. Stanga started small and eventually sold to acclaimed chefs like Roy Yamaguchi and a host of local grocers. Now, his mushrooms line the chilly shelves of Costcos throughout the islands.
Stanga's success paved the way for a diverse bunch of farmers. Benjamin Lillibridge, CEO and founder of Mālama Mushrooms, cultivated his first Hawaiʻi-grown shrooms in 2015 in a lava cave on Hawaiʻi Island. He now sells his superfood products in health food stores everywhere from Vancouver to Puerto Rico. Charles Tresidder, co-founder of Mother Mushrooms, grows gourmet varieties on Maui and sells mushroom cultivation supplies to other Hawaiʻi farmers.
For chefs like Dave Caldiero and Ed Kenney of Honolulu restaurant Mud Hen Water and its now-closed but much revered sister establishment, Town, mushrooms aren't on the menu unless they are local. Caldiero and Kenney started using Yang's mushrooms in 2008, when he first began testing his methods and giving samples to chefs he knew. "They are just more mushroomy," says Mud Hen Water head chef, Alika Chung, of Yang's crimini, Small Kine Farm's more popular petite portobello. "Sometimes buttons from the mainland have no flavor to them, but these definitely have a pronounced mushroomy umami-ness that is not the same as crimini that are shipped in," he says.