25 Aug 2022
Force measurement for efficiency in food processing and packaging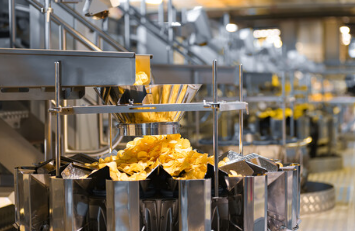 When we think about force measurement and its relation to product development, we often consider the aerospace, automotive or industrial industry; however, Interface have provided sensors for industrial automation solutions to thousands of customers using in-stock as well as custom application-specific sensors for OEM equipment to the food processing and packaging industries for many years. Many of Interface's customers use load cells and torque transducers to test and develop machinery used in the consumer packaging industry.
Interface are manufacturers of a full range of load cells providing the food processing and packaging industry with sensor technologies that increase efficiency and reduce waste. Like many industrial facilities, organisations are pushing hard to integrate new technology and automation that makes processes faster, more adaptable, and smart.
One of the factors critical to creating a smarter factory is by utilising force measurement sensors designed for collecting data in each production phase, as well as monitoring equipment in use for performance optimisation.
If you have ever wondered how a pill, a piece of candy or a can of food gets a little logo stamped on it without crushing it or how every bag of chips is nearly filled to the same capacity, chances are a load cell or torque transducer was involved.
Interface has a wide variety of precision-based accurate and reliable sensors used for various applications in food processing and packaging. Our customers are using miniature load cells within the production line to apply the exact force needed to delicately press a logo onto an edible product. We have others using multi-axis sensors from Interface to verify accuracy of intricately machined parts while moving through the manufacturing process.
A food processing plant wanted accurate results of their in-motion check weigher when food is weighed and processed while moving down the belt. A check weigher is an automated machine for checking the weight of packaged commodities. This included ensuring production line efficiency and food quality, real-time results of their food weighed, and a load cell that can endure the food industry's soiled environment.
Interface offered a solution using multiple SPI High-Capacity Platform Scale Load Cells that could be installed in the customer's equipment that is used through the production line where product is weighed on the conveyor. The SPI High-Capacity Platform Scale Load Cells delivers precise weighing data. When connected to the 920i Programmable Weight Indicator and Controller, the solution provides the customer real-time results of the weight of the food. The 920i Programmable Weight Indicator and Controller can also read up to four scale channels in real-time. The processing gains in efficiency were visualized and managed during the weighing process to optimize control and production.
A beverage bottle manufacturer wanted to dispense the right amount of fluid into their bottles, and then weigh their bottles to ensure it is at the labelled weight on their product packaging. This is both to minimise waste, but also to meet the standard requirements noted on the packaging. Interface suggested using the MBP Miniature Beam Load Cell, and attaching it under a plate or platform the water bottle is placed on while it is being filled with fluids. The force weight is measured by the MBP Miniature Beam Load Cell, and connected to the 9870 High-Speed High-Performance TEDS Ready Indicator where results are captured, displayed, and recorded by the customer utilising their water bottle assembly machinery. With this solution, the water bottle manufacturer received highly accurate results of each water bottle weighed in real-time, using the accuracy to reduce waste and speed processing time.
A snack manufacturing brand wanted to weigh the amount of consumable food product automatically dispersed into the bags during the packaging process. In this case, they needed to weigh their potato chips packaged and ensure the potato chips are at the exact weight needed due to regulatory standards. Interface's solution was to use multiple SPI Platform Scale Load Cells and install it to the potato multi-head weigher and packaging machine. The SPI Platform Scale Load cells were installed inside of the mount that attaches the head weigher to the packaging machine. Force results from the potato chips bag fill are read by the load cells and sent to the ISG Isolated DIN Rail Mount Signal Conditioner, where the customer was able to control the automated production from their command center.