04 Nov 2022
Food Specialities Limited (FSL) exhibits innovative and healthier ingredient solutions at Gulfood Manufacturing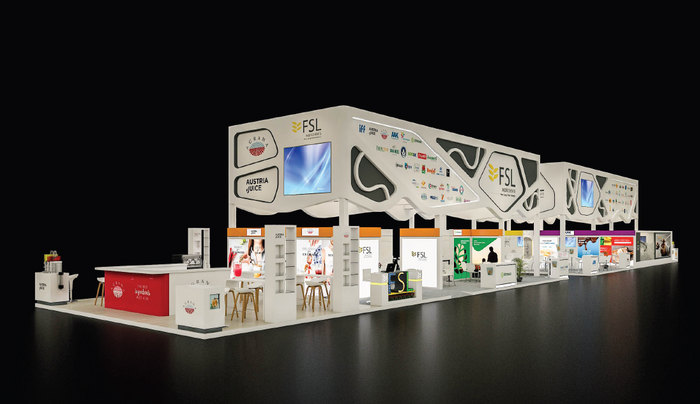 Dubai, November 01, 2022 – With health topping the agenda for consumers globally, FSL has developed and will be exhibiting a wide range of healthier and award winning ingredient solutions at Gulfood Manufacturing from 8th – 10th November 2022 at the DWTC.
With the largest stand at the show, FSL and its world renowned partners will be showcasing ingredients and solutions catered to every sector of the food and beverage manufacturing industries. This year FSL will also offer new ingredients solutions for manufacturers to create sugar and sodium reduced products, plant-based meat and dairy applications, clean label products, immunity boosting solutions and vitamin, mineral and fiber enriched food and beverage products.
Several innovation tours will take place at the stand throughout the 3-day show to introduce ground-breaking ingredients concepts in addition to sustainable solutions for food and beverage brands to embrace and align with consumer sentiments towards sustainable practices.
Despite its high standard of living, the GCC populations face a wide range of health issues such as obesity (33%), heart disease (32%), lactose intolerance (35%), high blood pressure (20%) and diabetes (19%) in addition to fiber and vitamin deficiencies*. To respond to these concerns, FSL has developed innovative food ingredient solutions which address health issues and empower manufacturers to align their brands with consumer needs by offering healthier products with added value.
"We have been based in the Middle East for over 35 years and feel a personal responsibility to take care of our populations and the next generation of consumers. Our innovative solutions specifically target products consumed by children by replacing unhealthy ingredients such as excess sugars, palm oils and cholesterol based products with healthier alternatives. We have also witnessed rising rates of lactose intolerance,milk allergies and hormone imbalances occurring in both children and adults and since 2018 we have been developing plant-based meat and dairy alternatives which also offer a much more environmentally sustainable and ethical business proposition. The populations in the GCC region are also deficient in fiber and vitamin D which are concerns we have also addressed with cost-effective vitamin and fiber fortification solutions. At FSL we are committed to driving the industry forward with healthier and sustainable ingredient solutions that are better for our people and planet. " said Dhruv Dhawan, General Manager - Innovation, Marketing & Sustainability, FSL.
FSL offers a broad range of innovative solutions across the entire spectrum of the food and beverage industry. Further information is available on the FSL website: https://foodspecialities.com/
Presentation at GFM 2022:
November 9th, Panel session at 03:30pm. " Could pivoting away from animal-based protein lead to a shorter, more resilient and potentially more local supply chain?" " https://www.gulfoodmanufacturing.com/food-tech-summit-2022- agenda
Speaker: Dhruv Dhawan, General Manager - Innovation, Marketing & Sustainability.